The ultimate business planner for 2018, to keep you inspired, focused & dreaming big.
Pre-Order Perfectly Planned 2018 – Limited Edition Daily Planner
£59.00
Out of stock
Our brand new, limited edition, Perfectly Planned™ 2018 daily planner is your essential accessory for planning your perfect year ahead and achieving all the things you want in 2018!
Your planner will help you to plan and review weekly, monthly and yearly so you can really stay on top of all your goals and dreams like never before!
•  Yearly planning pages with questions to answer for you to get really focused and stay on track… Woohoo! 
•  A plan and review every month to check your progress in your business… There will be no stopping you!
•  Exciting bonus gifts hidden inside your planner every month & access to our Perfectly Planned™ online course to give you that helping hand to make your business thrive… Yes please! 
•  Daily motivational quotes to keep you inspired and make you smile… Like a Cheshire cat!
•  7am to 10pm daily schedule… because those after work drinks are just as important as your 2 o'clock meeting.
Your Perfectly Planned™ 2018 daily planner will help you make next year the best year ever! Keeping you inspired, focused and dreaming big. With super simple guided planning pages, daily schedule, top daily goals and space to jot down your ideas and notes, your planner is the ultimate partner for taking control of your year ahead!
Our beautiful powder pink and gold foil design is limited edition and exclusively sold online via Carrie & Co.
Your Perfectly Planned™ 2018 daily planner is:
Measures: 9.5″ wide x 10.25″ high
Motivational Daily Quotes
Detailed Yearly Review & Planning
Monthly Planning & Review Pages
Weekly Planner & Goal Setting
Double Page Monthly Calendar
Monthly Bonus Gifts & Online Perfectly Planned™ Course
Luxurious Powder Pink & Gold Foiled Cover
Gold Accented Corners
Gold Wire Binding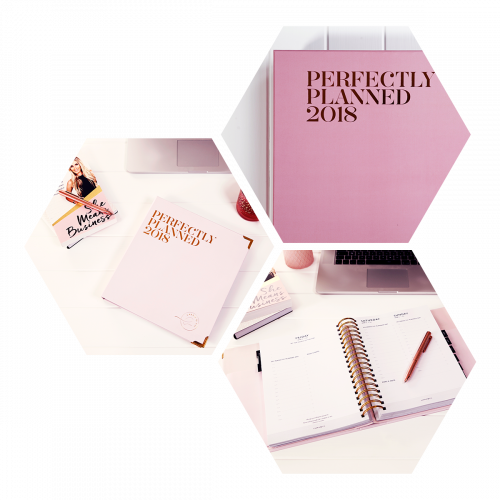 Planners will begin shipping at the beginning of December 2017.
Your Perfectly Planned™ 2018 daily planner will be shipped internationally by DHL trackable delivery and by ParcelForce for all UK orders. All orders are shipped from the UK. Orders within Europe are charged in British Pounds (GBP) all other countries are charged in US Dollars (USD).
UK ORDERS – Estimated delivery times on UK orders usually take 2-4 working days.
OTHER EU ORDERS – Estimated delivery times on EU orders usually take 4-6 working days.
NORTH AMERICA – Estimated delivery times on USA and Canada orders usually take 7 working days.
AUS / NZ – Estimated delivery times on Australia and New Zealand orders usually take 7-10 working days.
ALL OTHER COUNTRIES – All other countries will vary but will be trackable with your unique DHL number.
Planners will begin shipping at the start of December. We cannot quote any shipping times other than what has been stated above. International packages are shipped via DHL and you will receive a confirmation email from DHL with your tracking number as soon as your planner has been despatched by the courier. DHL does not guarantee shipping times but all shipments are trackable.
RETURNS POLICY
All international orders are final. We are unable to accept returns or cancellations of any Carrie & Co. stationery on international orders.
If your planner box arrives damaged on arrival, please take a photo before opening. If the planner inside is also damaged, please get in touch by email with your name, address, order number, details of the damage and attach your photo to your email. All cases of damage will be handled on an individual basis. We are unable to assist with damaged planners if the planner has been written in.
PRICING
Pricing is in British Pounds (GBP) for orders within Europe and all other countries are charged in US Dollars (USD).
ORDER CONFIRMATION & TRACKING
After placing your order you will receive an order confirmation email straight away. Please make sure you check your junk mail and social folders in case your email gets trapped. As soon as your order has been shipped, you will receive a shipping confirmation email from DHL with your tracking information. DHL often takes one working day to display all tracking information online.
SHIPMENT OF ORDER
All orders will be shipped to the delivery address specified at the time of purchase. Shipment is the responsibility of DHL or ParcelForce once it has left Carrie & Co. For any lost shipments, international duty charges or damaged shipments you will need to file a claim with DHL or ParcelForce directly.
INTERNATIONAL ORDERS
You are responsible for any and all import duties, taxes and charges that your country's customs & imports office may impose when your order enters your country. These fees and taxes are not included in the planner price or shipping fee. Any delay in arrival as a result of your shipment held by customs & imports is not the responsibility of Carrie & Co. All taxes and duty fees are calculated by the destination country's customs & imports office and are the buyer's responsibility to pay. We cannot refund any planner or shipping fees if you do not pay any taxes or duty to your country, resulting in your planner being returned to us.
REFUSED DELIVERIES
Refunds for the planner cost and shipping cost are non-refundable for undelivered packages or refused deliveries, whether that be a non-existant address or un-paid duty & tax by your country's government for orders that are returned to us.